Got this bike with 18k. Well taken care of but smashed headlight 12 years ago. In the process of locating light assembly and parts to get it running. The tank is a toaster but not original to the date 1971 so I want to get the original 6 gallon and paint it white. Any thoughts?

Thanks, John
Hey Boxer – awesome bike! The /5's are my favorite airheads by far. When I was cruising around on my R60/5 I always secretly wished it was an R75, however I did always like the super simple Bing carbs on the R60.
Your bike looks beautiful. I'm with you though – I prefer the 6 gallon touring tank to the toaster tanks. The tank will be hard to find, and expensive. There are many guys you prefer the toaster tanks and may be interested in swapping. The only two places you're likely to find some tank options are on ebay and on the BMW motorcycle owners forumshttp://www.bmwmoa.org/. Your search will be long and difficult, so I wish you luck.
You are right that the perfect tank for your bike is a white 6 gallon. Personally, I would only want a tank with original paint, even if the paint was beat up. I love the look of a nice old worn original paint job.
How does the bike run? I notice you have the spark plug leads disconnected and the carb is being tinkered with.
Yes we finally finished all the body Modifications this Bicycle!  we have stretched it further and lowered the seat, moved the peddal cranks forward, adding a freewheel so when und3er petrol power feet and enjoy the ride.
Where the peddals used to be is right side of bike 2 chain wheels one connects to relocated pedals the other to rear 7 speed freewheel. Okay here is fun part starts… on the othe side of bike on this same axle location (Bottom Bracket) is another freewheel with innerchangeble gears 18, 20, 22T this connects to engine, letting engine coast while peddaling. Neat huh?
Engine is an Automatic so I can shift now with hand lever (located high beside tank to clear legs
) I need to get wiring Diagram for this bike to enable me to add Rectifier and Battery (6Volt) and to wire in all our lighting we have done.
I will try to attach picture of bike before engine is added Tank is from a Honda Boss and also uses Honda Front fork/suspension rear is still "Hard Tail" Writing on Tank in Thai says "Thai One On…"
Maybe this will get picture loaded 
….. if this system is simple….ha! I must be simple minded!!
Well almost finished.  Still need help with wiring.
Is system AC ar DC Voltage?
Is Light system AC or DC voltage??
Is system full wave or 1/2 wave rectification??
All of these I need answers for to rebuild wiring circuits and harness ( would like to boil the Ba-ls on the Mechanic who removed all these components instead of repairing.  Shure bike will run off magneto… but it would really be nice to know I have lights, don't have to worry about the time and who is riding the Chopper… Ya Know what I mean??
Enjoy… pics
Here is the tricks to a safe motorized ride.  (At least they worked for me)
3 freewheels
(1 at crank, 1 at engine connection to bike gearing, last at rear wheel)
we moved crankgear and pedals (BB) forward 18.5 inches lowered seat 14″, used original BB for double gearing.. Left side freewheel to connect to engine… Right side stacked gears (2) 1 on inside connects to crank gear freewheel/Pedals. 1 on outside connects freewheel at rear wheel.
Important!
Stacked gear is attached to solid hub so either motor or pedals will coast or connect with rear wheel. Our engine Yamaha Y80M is a kick start semi automatic 3 speed… needs no clutch.  If you need to pedal to start engine then install solid hub on left side instead of freewheel.  Then you must have clutch and a way to lock it engaged to be able to use pedals, when released it engages motor.
I used 100% Motorcycle sprockets and chains.  I chose to use 420 style links as it seemed here I had the option for a 43t chainwheel for my crank.  428 style link chain/sprockets did not seem to have this option.  I also found 4 bolt freewheels that my sprockets bolted rightup to. (See photos)
All I have left to do is exhaust and seat.  Minor adjustments in wiring as I changed from 6V to 12V, Kept Neutral light, added highbeam indicator, changed fuse to Master plugin and 4 circuit fuses.
1: Headlight,
2: Tail Light,
3: Indicators includes horn,
4: Brake Lights
I tinker and seem to have an unnatural draw to anything that's no longer factory supported with replacement parts (I bought a polaroid camera the day before they announced that they would no longer be making film)
So I bought this bike a few years ago.  It ran alright (had charging issues).  I rode it into the ground and then stashed it in a garage for 18 months.
Now I'm learning how to fix things on it.  The tank was a barrel of rust flakes and so I pulled and cleaned the carbs, patched a few holes and evaporust / por-15'd the tank.  Now I'm dealing with some cross-threading issues with the spark plugs.
with bicycles the best way to chase squirrely threads is to come in from the side that hasn't been buggered.  Any reason this is different here?  The plan is to tap them from the inside out.  I'm also worried about all this black crap in the cylinders.  Is there a good way to safely clean that out while the thing is apart?  I'm not entirely sure I want to get any deeper into this engine at the moment (if I can get away with that)
Also – I'm replacing bolts as I come to partially stripped ones.  Any materials I should avoid with the replacements?
p.s. loved the "just boil the hell out of it" carb article.  unfortunately I had already pulled everything apart and cleaned it with carb cleaner, but I did boil the gummed innards of an old Eskimo desk fan from the 40's that had stopped oscillating.  Worked like a charm.
So I have the mechanical bits back together and nothing happened.  I'm going to start trouble shooting the electrical problem, but I'm thinking I unplugged something (everything) essential when I was flipping the bars (rookie mistake)
I was going to rewire it down to nothingness, but I took a closer look at the diagram you posted for Cafes and choppers and I'm not sure I want to be that bare.  I'm totally into gauges (at least the spedometer) and a bit nervous about my rectifier having 4 wires coming out of it.
I don't have a starter (ok, so I have one, but it doesn't work – the chain has been disconnected and "something else" is wrong with it . . . and I don't care enough about having a starter to try and make it work, or even figure out why it doesn't)
so anyway – one of the rectifier wires is heading into the starter . . . why? (diagram for examples)

The other two go into opposite sides of the alternator via the voltage regulator – anyway.  at the risk of sounding dumb (which is better than doing dumb things) do I need the voltage regulator? It looks like I  can remove the starter line and run things anyway.
Also . . . I'm looking into ordering 16ga wire to rewire with . . . should I get larger (lower) gague wire? – McMaster Carr has some heat/chem/cut resistant wire – worth investing in or just eff it?
Ben
Last year my son gave up on this bike and asked me if I wanted to give it a try.  He could rarely get it running and could never keep it running for very long.
I have no experience with motorcycles but decided to accept the challenge.
I am in the process tearing it down, cleaning it up, assessing what needs to be done, and getting it running and keeping the cost down until then.  In other words, little is being spent on cosmetics at this time until I see if I can get it working properly.
I've decided to keep a blog of my progress just for grins and to amuse my friends, but it occurs to me that perhaps if some folks who actually know motorcycles take a look at what I'm doing, perhaps some useful advice can be gleaned.  So, just in case anyone is itnterested, and cares to see how I'm going about this I'll include the URL and maybe I can get some free advice.
http://motorcyclediary-laprete.blogspot.com/
Great looking project! You're really putting some elbow grease into it.
How did the pistons and cylinder walls look when you opened up the motor? Did you happen to do a compression check. At first glance everything looks to be in decent shape.
I'll give your blog a read. Thanks for posting!
The cylinder walls looked pretty good I didn't notice any scoring or discoloring.  The tops of the pistons had some carbon build-up, as did the cylinder heads.  Didn't do a compression check before I opened everything up…mistake??
I'm looking for a shop to mic the pistons/cylinders and check valves before reassembling.  I should do this right?  Also waiting on a gasket set I ordered.
Also, I'm wondering about cleaning the pistons and cylinder heads…any particular type of solvent I should look for?  How abraisive should I get?  Anything I absolutely shouldn't do?
Wow! What a fantastic looking bike. You did a truly great job on it.
How is she running? Just as sweet as she looks I presume.
please take a listen to the video in the link and tell me what you think about the noise that's almost like a backfire.  OK? Bad?
also, near the end of the video there is smoke that is coming from the area of teh prechamber. anything to worry about there?  it's hard to see.
http://motorcyclediary-laprete.blogspot … t-now.html
Hey Iprete –
Sounds like there are a couple issues in the video. Number one – the bike is LOUD. You have no baffles. In my experience, you aren't going to get any vintage air cooled bike to run well without baffles unless you put quite a bit of effort into jetting and tuning. If you are just looking for a bike to zip around town on I would actually recommend trying to get some real mufflers on there that provide some back pressure to the exhaust valves.
Two – Yes, sounds like you're running only on one cylinder. This can be caused by all sorts of things. You definitely have a little exhaust backfiring. Pull your plugs after running, I bet one of them is wet. It's either wet because:
A.) The cylinder is getting too much gas (stuck float, improper float height, way off throttle sync)
B.) There is no spark to burn the gas (bad spark plug, bad cap/wire, dead coil)
The bike is definitely looking great. Seems like you're right on track. If you plan to keep it and ride a while I'd recommend a muffler that hasn't been hollowed out. Even a cheap Dunstall replica will give you decent back pressure and help the motor idle smoothly.
Notes from a Reader:
Evanfell is 100% right. I have a Z750 twin which was doing the same thing. Gave the carbs a good clean through, changed mains to slightly bigger and baffled the loud exhausts. She runs sweet now. yours sounds like it's definitely the carbs palying up
Wanted to do a Bobber/Rat but this just sort of happened??  Will be headed to Daytona with it next month for 2011 Bike Week.
\
Wow man, that bike sure is out there! I bet it turns heads everywhere. Big tractor seat, stove pipe exhaust, and bright pink to boot.

How did you go about painting the tank? Did you do it yourself or have a pro shoot it for you?

-Evan
Hey Evan
Thanks, 
Actually just got it done this winter have not had it out yet due to constant snow and ice!
, I will ride my VStrom in some pretty tough stuff but not cold and ice.
I did have it out before final paint and details and yes, a few guys just about drove in the ditch looking over their shoulder as I passed by.
I did the paint work myself, wish I would have taken more time as it was my first job and it started off as a "rat" but I just couldn't leave it there.  I stripped the tank, etched primer (gray) , laid down pink rattle can, (applied a sticker lable from one of our wine bottles), then satin black rattle can, (removed sticker), then shot clear over with air gun w/hardner.  Frame rattle can silver.
All the colors were chosen due to meanings (too much for here to list) associated with our fight with Breast Cancer.
The bike has a 10 speed tranny so in low/1st it sorta has "grunt" too.  Lots of other parts came from local heavy truck supply place, led lights, head lights, etc.
There are a lot of little things I sorta "Ma-guyvered" along the way w/safety 1st then $$ 2nd.
I'm a farmer/trucker/Winery owner/Corn maze/Pumpkin Cannon kinda guy hence the way its done.  My wife is a B.C. survivor, If selected for saftey crew I'll ride it as an escort in the 2011 Cleveland 60 mile 3 day walk.
Wait till ya C the KZ650 when I'm done with it, 
  however it will be more "traditional cafe'"
Take care!
Awesome! Thanks for the details. The best bikes are always the ones with the most personal touches. It's the whacked out looking ones like this that get the crowds around them at the rallies!

The paint looks quite nice in the video, especially for a rattle job. I generally avoid doing multiple colors because it's hard to get the lines straight and balanced from side to side. You definitely did a good job there.

– Evan
Thanks again,
Ya know, it just sorta fell together, I'm not a real patient person on projects that was my biggest goal this go around (I got better).  I used a lot of the lines that were already there in the tank design and just "went with them".
If anybody else does this I wish I would have probably sanded a bit more and then pushed down harder on the tape on the edges more cause I got some "bleed-through" here or there.  Buy a high quality masking tape (I bought crap from Big Lots, 
) that has good glue, but get it off as soon as possible so you don't lift the paint underneath.
I was going to use a "flat clear" but it was twice the price of gloss, (trying not to nickle and dime this project into big $$)
I maintain and care for my equipment but ride it hard too, this will not be a trailer queen,(except for the snow/ice covered miles between Oh and Fla.).  Probably get scratched up, but I figure they'll keep making paint! 
I still give "hats off" to the pros, but if I'd have a "$ fancy $" paint job, I'd just drop the bike!  I'm always going someplace I probably shouldn't.
Hey Evan, I saw where you had done an 82 KZ550 so I thought you might be interested in seeing mine. Its coming along pretty nicely and it definitly has a unique look for a kz550. I can;t lie Im pretty happy with the way this bike is going. Let me know if you want any specifics! This pic is fairly recent, the newest ive got anyways.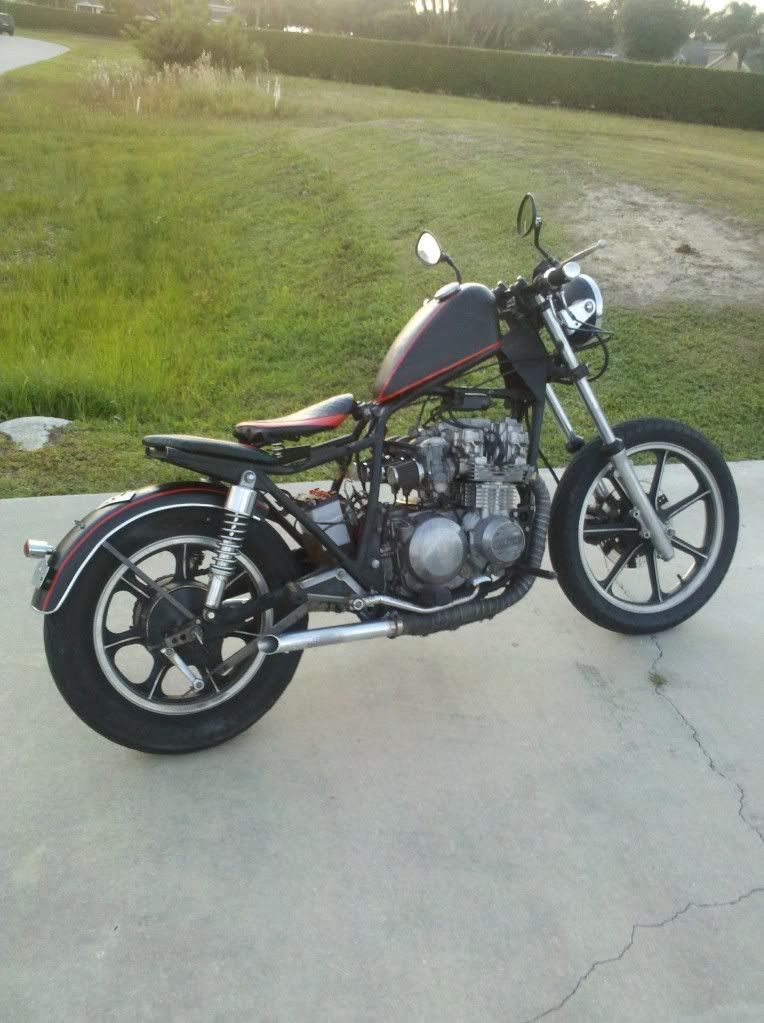 Any comments good or bad welcome.
Hey Jon – killer looking 550. I love the KZ motors, they're all great. If it were mine, I'd probably add on some handlebars with a little rise and bend to them.  :devil:

What's next for the bike?!

-Evan
First time poster, but found this site through Evan's excellent carb cleaning guide. (I also have an '82 750 Seca that I've owned since 1984)

In any case, I have a Honda Spree project I'm working on with my boys teaching them how an engine works as we completely restore this scooter. The case and parts have been cleaned up a bit and I'd like the carb to match.

Is there some clever way to do this? At this point I have cleaned the exterior with a 3M pad that I cut into circles and mounted to my Dremel. After that I tried some buffing compound and small buffing wheels, but it just doesn't look as nice as the other aluminum parts.

Thoughts?

Thanks!
George
Hey George – Sounds like a great project you have going!
I personally don't ever go after the mirror finish. It is too time consuming in my opinion for the bikes I typically work on. It also takes a lot of effort to maintain. However, that said, I applaud your project and desire to get the best polish possible.
A flat finish can be caused by too rough of a surface on the aluminum. What grit sandpaper did you work your way down to – if at all? If it isn't a sanding issue then give some jewlers rouge polish compound a try and buff the hell out of it.
The best I do on carbs is something like this.
This was just done with a soft wire wheel and a little quick wipe with some polish. Good enough for me! Hehe. If you want a mirror finish you have to start with sandpaper. 800 grit, 1200 grit, 2000 grit, then move on to the polish compounds.
I have had this strange fascination with cafe bikes and mid-70s sport bikes since an old co-worker introduced me to his two Moto Guzzi bikes about 10 years ago.  Listening to that 850 Le Mans rumble in his shed planted a seed in the back of my mind that has been waiting to sprout.  I have since tried getting a motorcycle on a number of occasions but something always came up (married, kids, etc..).

The time has come for me to finally pick up a project after a year of reading restoration stories and general "how-tos" (including many of yours!).  I am a very competent mechanical person, one that works on my own car, takes apart broken things to solder wires and put them back together, and has the patience to take a long time to do something right the first time.  However, when it comes to motorcycles, I really have no idea where to start or what to look for!

I would love to find a $500 barn-bike I can completely disassemble, clean and restore, then rebuild to my specifications.

What advice do you have for a newcomer to the vintage/restoration bike building world?
Thanks, Todd

Response from a Reader:
Todd,do you have a certain kind, brand model in mind? if so research parts availability cost etc. be realistic ducatis even small ones are way more expensive than hondas. visit different sites to get ideas. remember single cylinder or twins are easier and cheaper generally than multis. if your looking to buy online look at pics carefully, scale the pic up to 200% and move it around how rusty are things etc. if your looking at and old bike most likely at a min you will need all new cables tires and tubes battery carb rebuild kit points and condensor, plugs, grips maybe a seat cover a repair manual. dont let this scare you this is half the fun researching customizing tracking down parts etc. remember also there is nothing wrong with small bikes moto guzzi made some pretty sweet bikes under 350cc. I am in the process of cafing a1967 kawasaki c2tr 120 roadrunner $250. I just got 1967 honda cb160 running for my brother $350. did the same thing for him 6 months ago on a 1971 ct90 with 1260 original miles $600 have a 1966 suzuki k15 hillbilly $250 waiting after the roadrunner is done, also a honda xl500 cafe project $500 after that. If you respond I will continue this on how i generally go about the process. hope this helps someone