Evan,
looking to turn my bike into a bobber really do not know how to go about it,do you think a shaft drive would turn out as a sweet bobber…this bike I hav had since new really do not want to let it go so really want a bobber and think it would make a nice one but never seen a shaft drive as a bobber if you know of any or have any pics would love to see them and any input you have would be greatly appreciated thanks bro looking forward to hearing from you Peace bro, Pete…
The quality of the finished project will be exactly as good as the effort and time you put into it. There have been tons of awesome shaft drive bikes built, the XS line is no exception.
I tend to like the bagged out XS1100's myself, but I've always been an XS11 fan.
Hey I have an 82′ kz440 that i chopped into a bobber and i'm tryin to wire it the your diagram. this is my first bike that i am wiring. Your diagram is for a 4 cylinder and my obviously is a twin. maybe if you got a diagram for one you could email it to me. let me know!
The KZ440 is a great little bike. Should be a fun project for you! There isn't much of a difference in wiring between a 2 and 4 cylinder bike, and if you go off ofhttp://cycles.evanfell.com/2010/03/simple-motorcycle-wiring-diagram-for-choppers-and-cafe-racers/ then you shouldn't have any issues. The only difference is you have one coil instead of two.
Scored a mostly in tact 1981 XS400 earlier this week for a steal.  Definitely a project but it looks like it'll be back up and running (at very least) with not too too much work.  Anybody played around with one of these before?  I'm debating going street tracker or cafe on it.  I mostly ride around New York City and up into the catskills/mountains.  I'm looking to keep this on the cheap.  Things I know I need are a clutch lever (ordered), a battery, tires, and almost 100% gonna need some cables and gaskets.  I'm definitely doing a seat/bar swap as well.

Any advice on what you've all done before and had fun on?  My other bike's a 2001 buell blast with a bastardized cafe set up and it's a ton of fun.
The XS400's have great little motors, I've always enjoyed mine. I typically prefer the 1977 XS400 models because they are a more standard style rather than a cruiser like the later years. But they are good all around bikes regardless. I wouldn't go 'cafe' with a cruiser if I was you, they never look quite right. Just clean it up, make sure it runs/rides nice, and enjoy it as is!
Notes from a Reader:
I own the bike as well. The common thing with the XS seems to be Cafe Racer. I can't wait till I have money to make it worth something. The only thing I've had a chance to do is throw straight pipes on mine and do minor fixing up from accidents.
The only thing I have to say specific to the XS400 that I've noticed is the headlight is terrible weak if you ride at night.
I have a modified 26″ Bicycle which we STRETCHED 18 1/2″ are going to add 2cycle China Bike Motor 70cc to. :devil:

TO EXPLAIN WHAT WE HAVE DONE:
we lowered bike (top of seat is 20 1/2″ from street surface) because we are using 17″x3.50″ rear Motor  Cycle rim, tire and 10G/36H spoke coupled to a Custom Bicycle hub.  which has 6 speed free wheel gearing and disc brakes. the original BB or where pedal/chainwheel and crank were is now right side removable  (2) chain wheels 42t attach by chain to rear wheel, 24t attached to new BB chain wheel 38t and crank which is 18 1/2″ forward  from original location, to give leg room to pedal bike. Now on left side of bike  on original BB axle is 18 or 22t free wheel to attach to drive gear on motor.  We actually extended bike from seat post to front fork 18 1/2″ stetching out frame and then double walled all tubing.  We are using a Honda M/C front fork (suspension) which actually let use use either 26″ or a 24″ disc brake bicycle rim and tire (Double walled rim) We were actual able to fabricate a bracket to mount caliper to and original caliper fork mounts….lined up perfect with rotor.

REASON FOR SOME OF THE ABOVE (OTHER THEN LOOKS   :
What we have done is added freewheel to center BB to let motor sit still while pedaling and vise versa let the pedals sit still while under petrol power. (because of pedals it is considered a bicycle still and with specific additions is street legal with no license needed.

NOW THE PROBLEM: 
When we extended frame we gave Head Tube more rakeactually just turned it over. Not wheel wants to dart here and there. (when you turn fork ground contact point varies) We had Nice 26″ x 1.38″ tire and rim. We switched to 24″ x 1.75″ and that seemed to improve handling, Why?
If we go to 1.96 width tire or 2″ or even 2.25″ will it continue to Improve? Is it because wider tire is more contact surface? With 26″ as we turned fork tire contact seemed to roll from center tread to off center. Could I even go to 26″x 2.25 or 2.50 and get same improvements? (would look more Radical )
David
Hey David – sorry for the delay – I've been out riding!! 
Every bike, bicycle, motorcycle, etc will have a unique steering geometry and performance based on the rake, wheel size, fork length, and axle mounting position. The longer you stretch the front end of a bike the more the tires contact point with the ground will shift side to side when the handlebars are turned.
Ever notice that when you take a hard right corner on your motorcycle you actually turn the wheel to the left? Thats due to the offset, there's not simple way around it. That's also why, when you park your bike on the street you always turn the handlebars in, because the front tire will then be further to the outside of the bike's axis allowing it to lean more firmly into the kickstand.
The slower you are traveling the more pronounced this effect will be.
If you want a more sharply steering and controllable bike, then bring your forks closer to vertical. A vertical fork is the only one which will not exhibit an offset in ground contact when the bars are turned.
You can also use a smaller tire, which again will reduce the side to side offset.
Keep me posted on your progress!
Hey Evan, I saw where you had done an 82 KZ550 so I thought you might be interested in seeing mine. Its coming along pretty nicely and it definitly has a unique look for a kz550. I can;t lie Im pretty happy with the way this bike is going. Let me know if you want any specifics! This pic is fairly recent, the newest ive got anyways.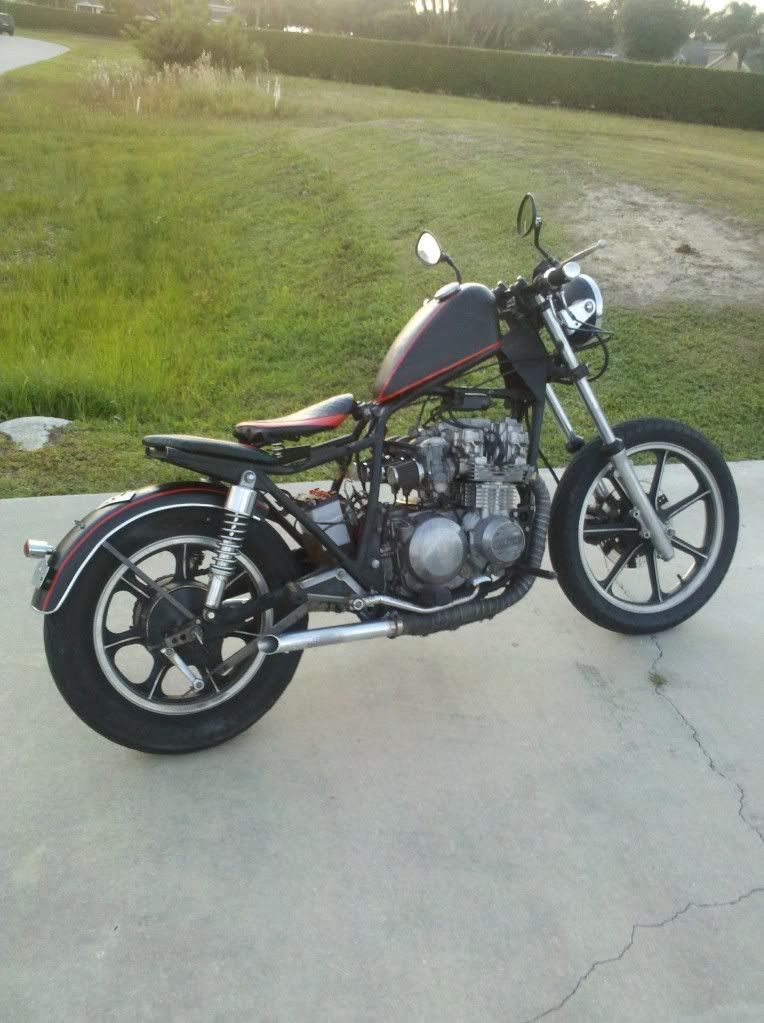 Any comments good or bad welcome.
Hey Jon – killer looking 550. I love the KZ motors, they're all great. If it were mine, I'd probably add on some handlebars with a little rise and bend to them.  :devil:

What's next for the bike?!

-Evan
First time poster, but found this site through Evan's excellent carb cleaning guide. (I also have an '82 750 Seca that I've owned since 1984)

In any case, I have a Honda Spree project I'm working on with my boys teaching them how an engine works as we completely restore this scooter. The case and parts have been cleaned up a bit and I'd like the carb to match.

Is there some clever way to do this? At this point I have cleaned the exterior with a 3M pad that I cut into circles and mounted to my Dremel. After that I tried some buffing compound and small buffing wheels, but it just doesn't look as nice as the other aluminum parts.

Thoughts?

Thanks!
George
Hey George – Sounds like a great project you have going!
I personally don't ever go after the mirror finish. It is too time consuming in my opinion for the bikes I typically work on. It also takes a lot of effort to maintain. However, that said, I applaud your project and desire to get the best polish possible.
A flat finish can be caused by too rough of a surface on the aluminum. What grit sandpaper did you work your way down to – if at all? If it isn't a sanding issue then give some jewlers rouge polish compound a try and buff the hell out of it.
The best I do on carbs is something like this.
This was just done with a soft wire wheel and a little quick wipe with some polish. Good enough for me! Hehe. If you want a mirror finish you have to start with sandpaper. 800 grit, 1200 grit, 2000 grit, then move on to the polish compounds.